Initial Telephone Contact
Your first interaction with Mass-RI Veterinary E.R. is usually through the telephone. Remember that our staff cannot see your pet and rely upon the accuracy of the description of your pet's condition to assist you. When necessary, a veterinarian may be consulted or speak with you directly. Be advised that it is impossible to definitively diagnose your pet over the phone and if you are concerned, the best thing to do is bring your pet in for an examination. Should you decide to bring your pet in, the receptionist will record your name, address, telephone number, and pet information to expedite admission procedures and help the medical staff prepare for your pet's arrival. Should you decide to observe your pet at home, you are encouraged to call back at any time if your pet's condition changes or you need more information. The receptionist will also provide information about the fees and payment policies.
Registration at Front Desk
At the front desk, please let the receptionist know: 1) your name; 2) the name of your pet; and 3) the primary reason you are presenting. The receptionist will inform you about the examination fee and payment options.
The receptionist will call for a triage nurse and begin to fill out an information card to generate a record for your pet. If this pet or your other pets have been to us in the past, please inform the receptionist.
The Waiting Area
We will do our best to keep you informed about potential waiting times and to make you comfortable during this period. Please do not hesitate to inquire with the receptionist when you arrive regarding estimated wait times. It is important that you notify the receptionist if there are any changes in the health status of your pet while you are waiting. Many of the animals presented to the emergency room have critical or life-threatening problems that require immediate medical attention. This necessitates that animals and their families are serviced on a medical priority basis. When the waiting area is full, it can be expected that waiting times will be extended. It can be frustrating to have an extended waiting time when the waiting room appears to be empty. However, during these times there is a high level of activity "behind the scenes". Unlike human hospitals, the doctors and nurses that examine and admit patients from the waiting room are the same doctors and nurses that stabilize critical incoming animals, work with the ICU cases, run laboratory tests, take radiographs and perform other imaging techniques, administer anesthesia, and perform major and minor surgeries. They must get animals ready for discharge and speak with owners about their hospitalized animals. Should a hospitalized or in-coming animal have a crisis, the doctors and nurses must stop their current activities and assist in the resuscitation of this critical patient. This can delay the examination of an animal determined to be stable at triage.
Unfortunately, delays can also occur with "appointment" times with specialists, as well. We ask for your patience while more critical animals and their families are assisted.
While waiting, please feel free to visit our vending machines. All proceeds from vending purchases go toward our stray, wildlife and abandoned animal fund.
Triage
Upon arrival, the receptionist will call for "triage". The goal of triage is to determine if there are any life-threatening problems that require immediate attention. The veterinary technician will ask you a few questions and quickly evaluate your pet. Historical problems that might warrant immediate transfer to the treatment area include: trauma, labored breathing, bleeding, loss of consciousness, ingestion of a toxin, seizures, fainting or collapse, or dystocia (difficult birth). Physical findings that might suggest life-threatening problems include: labored breathing, white gums, weak pulses, change in consciousness, seizures, shock, bleeding, severe weakness, urinary tract obstruction, severe pain, or profound dehydration. If a critical problem is found or anticipated in your pet, the technician will ask permission to take your pet from you into the treatment area for immediate examination and assessment by a doctor. A veterinarian will quickly assess the situation and come speak with you about what needs to be done right away. We appreciate that this can be a stressful time and that you may be required to make decisions rapidly. Approximate costs will be discussed with you at this time so that you are aware of your financial commitment. If your pet is found to be stable at triage, you and your pet may be asked to take a seat in the waiting area.
Initial Examination and diagnostics
A veterinary technician will bring you and your pet into an examination room. They may record initial historical information and your pet's temperature, pulse, and respiratory rate. Your primary care veterinarian may have called and provided important information regarding diagnostics and treatments provided at their facility.
The veterinarian will gather additional historical information from you and perform a physical examination on your pet. At this time we may offer additional diagnostic tests such as labwork or radiographs to help determine what is going on with your pet. The doctor will focus their efforts on working with you to provide several treatment options and assist you in making the optimal choice for your family pet. You will be given an estimated range of costs for the services to be provided.
Please ask as many questions as necessary to gain a comfortable understanding of your pet's condition, diagnostic/ treatment plans and estimated costs for services
Outpatient Treatment
The doctor will focus their efforts on working with you to provide several treatment options and assist you in making the optimal choice for your family pet. Many patients can be treated on an outpatient basis where they may be sent home on medications to treat their specific illness. Other patients may need to be admitted to the hospital.
Admitting Your Pet
If you and the veterinarian have determined that hospitalization is the best option for your pet, you will be required to complete an admissions form which indicates: CPR options; permission for diagnostics and treatment; estimate of costs; agreement for payment; and amount of deposit. You will be required to leave a deposit equal to 75% of the high end of your estimate prior to your departure. You should take your pet's collar, leash, carrier or other personal items with you at this time.
If your pet remains in the hospital for tests or treatment, you will be asked to sign a consent form allowing us to begin treating your pet. (You must be 18 years of age or older to sign this authorization agreement.) This form allows you to designate your wishes should your pet have cardiopulmonary arrest and authorizes charges for services. You will be given an estimate for the charges, typically for the first 24 hours of care. Payment in full is due at the completion of medical services.
CPR Options (Code Order)
The discussion of cardiopulmonary resuscitation options is always an important yet sensitive topic. This must be decided for all animals admitted to the hospital, regardless of the severity of illness. Be sure to discuss the following options and associated potential costs with your veterinarian. The cost of CPR is not included in the estimate.
Surgical CPR option (Open chest CPR): This choice indicates that you authorize all efforts and procedures determined appropriate by the veterinarian to try to resuscitate your pet. This may include surgical opening of the chest and providing direct manual heart massage to promote blood flow. If successful, this option requires surgical closure of the chest and potentially mechanical ventilation for a period of time. This option is more often recommended when the patient is young or had a sudden onset of clinical signs in a previously healthy pet.
Medical CPR option: This choice indicates that you authorize obtaining an airway, breathing for your pet, external chest compressions, and the administration of drugs and fluids to try to re-establish circulation and respiration. This option is recommended most often.
Do not resuscitate: This choice indicates that you do not authorize any resuscitative efforts should your pet have a cardiopulmonary arrest. The veterinarian is authorized to administer pain medication should the patient appear to be suffering during this transition period. This option is always an acceptable choice based upon the family's beliefs and needs.
Once you have completed your Admissions Form and left a deposit, you may go to the treatment area and visit your pet. Mass-RI Veterinary ER is not responsible for your pet's personal items, so please be sure to take all leashes, blankets, collars etc with you.
The veterinarian will probably not call you the evening of admission unless there is something specific to report or additional information is needed. You are welcome to call and ask how your pet is doing. The doctor may not be able to speak with you personally, but can get a message to you regarding your pet's status.
The next day you will receive a phone call from the attending doctor. You will be advised of your pet's condition, the plan for the day and an update on the status of the charges. If for some reason your contact person is unable to speak with the doctor during that time, please feel free to call during the day for an update.
Visitation
*Right now we are not allowing Visits*
Owners are encouraged to visit their hospitalized pet each day as long as the animal does not get too anxious or nervous. It is best to schedule your visit when you speak with the veterinarian in the morning. Due to treatment and procedure activity in the ICU, if your pet cannot leave the ICU for the visit you will be limited to two visitors at a time for no longer than 15 minutes. Your visit could be interrupted if there are ICU cage rounds or important treatments that require space and/or privacy. For the safety of other patients, clients are not allowed to visit in the isolation ward. Animals in isolation can be viewed through glass windows in the ICU.
During your visit, the veterinarian will attempt to speak with you if available. It is ideal to sign an updated estimate if needed, change CPR code if desired, or leave additional deposits as required at this time.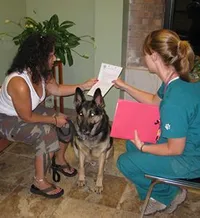 Discharge Procedures
The discharge of your pet should be scheduled with the attending veterinarian. You will visit the receptionist to complete payment for services provided to your pet. As we take only a 75% deposit, most clients have a balance at the time of discharge. We will provide you with an itemized invoice and printed discharge information as well as medications that are being dispensed. A veterinary technician will go over this information with you and bring out your pet. Please remember to bring your pet's collar, leash, carrier, or other personal items that you desire for transport.